KFI Polaris ATV Plug-N-Play Winch Kit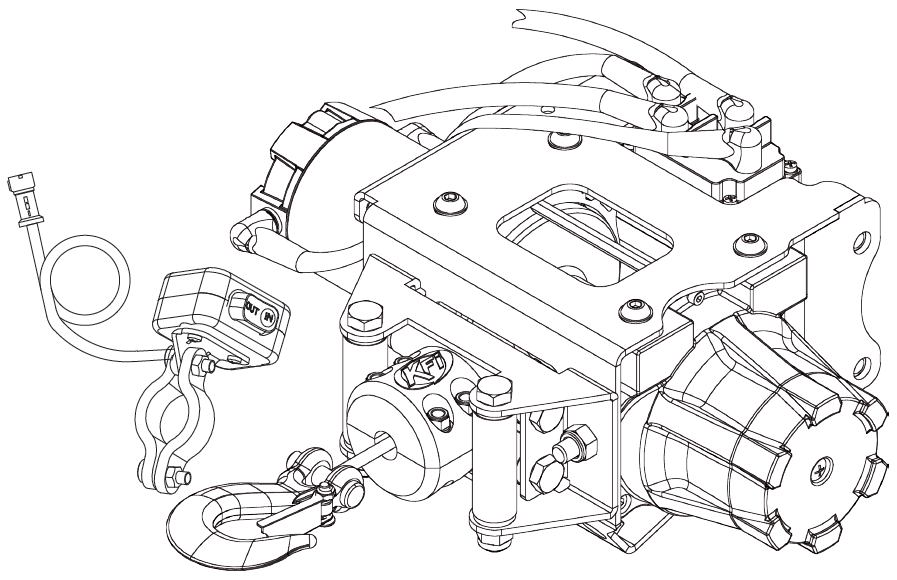 Polaris ATV Plug-N-Play Winch Kit By KFI:
A reliable winch is the most important accessory a rider can have. Our team here at KFI Products designed this Polaris ATV Plug-N-Play Winch Kit
with the user in mind, making it completely assembled and ready to be installed. With roughly a 15-20 minute installation time, you can spend more
time plowing, racing your buddies down the trail, or trying to make it through your favorite mud hole! Whichever you perfer, feel confident you can pull
yourself out of any situation with a KFI winch on your machine.
What You'll Be Getting:
A top of the line, stylish, but yet extremely durable KFI Assault Winch with our 2500LB steel cable winch. The Polaris ATV Winch Kit comes with the Winch, Electrical Contactor, Roller Fairlead, and Cable Hook Stoper pre-assembled in a model
specific winch mount and a Handlebar Mini-Rocker Switch to controll your winch. Both the Handlebar Mini-Rocker Switch and the Electrical Contactor are designed to work in conjunction with the Polaris pre-ran handlebar harness making the wiring a breeze. Please see application chart belowfor fitment on your machine and models that will require relocation of the contactor to the side of the mount.Relocation will require two bolts.
Note:
Most new Polaris ATV's come with the pre-installed OEM handlebar wire harness. This
wire harness is for connecting the handlebar remote to the contactor. Please refer to the application
chart below for the model specific machines that require the additional purchase of this Polaris Handlebar
Wire Harness #AP-Harness.
Please refer to the application chart below for Polaris ATV fitment.
| | | | | |
| --- | --- | --- | --- | --- |
| Polaris ATV | Year | Requires Moving Contactor To The Side | Requires Purchase Of   #AP-HARNESS  | Requires Purchase Of Bumper Conversion BKT  #101895  |
| Scrambler 1000 XP | 2014 | No | Yes | No |
| Scrambler 1000 XP | '15-18 | No | No | No |
| Scrambler 850 | '15-22 | No | No | No |
| Scrambler 850 XP | '13-14 | No | Yes | No |
| Sportsman 1000 Touring XP | '15-22 | No | No | No |
| Sportsman 1000 XP | '15-22 | No | No | No |
| Sportsman 450 | '21-22 | No | No | No |
| Sportsman 450 | '16-20 | Yes | No | No |
| Sportsman 550 | '12-14 | No | Yes | No |
| Sportsman 550 Touring | '12-14 | No | Yes | No |
| Sportsman 570 | 2014 | Yes | Yes | No |
| Sportsman 570 (Base) | '21-22 | No | No | No |
| Sportsman 570 (Base/SP/EFI) | '15-20 | Yes | No | No |
| Sportsman 570 EPS | '21-22 | NO | No | YES |
| Sportsman 570 Premium | 2020 | Yes | No | No |
| Sportsman 570 Premium | '21-22 | NO | No | YES |
| Sportsman 570 Utility HD LE | '21-22 | NO | No | YES |
| Sportsman 570 6x6 (Big Boss) | '17-22 | Yes | No | No |
| Sportsman 570 Touring | 2014 | Yes | Yes | No |
| Sportsman 570 Touring | '15-22 | Yes | No | No |
| Sportsman 570 X2 | '15-22 | Yes | No | No |
| Sportsman 570 SP | '15-18 | Yes | No | No |
| Sportsman 850 | '12-14 | No | Yes | No |
| Sportsman 850 | '15-22 | No | No | No |
| Sportsman 850 High Lifter | '16-22 | Yes | No | No |
| Sportsman 850 Touring | '12-14 | No | Yes | No |
| Sportsman 850 Touring | '15-22 | No | No | No |
| Sportsman ETX | '15-16 | Yes | No | No |